Human Services Associate Certification + Mentorship
Preparing for Careers in Evidence-Based Human Services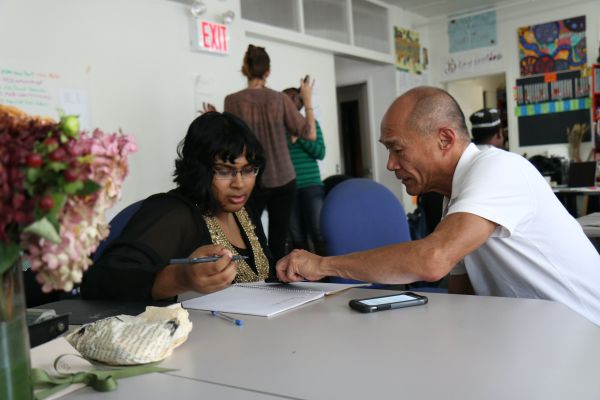 Congratulations! So you want to be a Human Services Associate...
Are any of these true for you?
We prepare people in our community to enter or re-enter the job market.
We help members of our community decide what career to pursue.
A career in Human Services would absolutely interest the people we serve
Many people we serve are better suited to a career in the growing field of Human Services
If you said "YES", then the Certified Evidence-Based Associate (CEBA) in Human Services is the way to go. There are three (3) options to achieving that goal;
Option 1: Undergo the Associate Certification. The associate certification process includes an online virtual masterclass workshop of in depth training modules, quizzes, a pre-test and a post test final exam. This option educates candidates about available human services careers and the core concepts and practices for professionals. Upon completion candidates will earn an industry certification showing the participant possesses a fundamental understanding of what it entails to enter a career as a Human Services progessional.
Option 2: Undergo the Associate Certification + Mentorship. This option offers the same benefits as option 1 with the added support provided by a mentorship component. It pairs the candidate with an experienced human services professional who guides and supports the individual as they progress.
Option 3: Motivational Interviewing (MI) Skills course. This option is a step up into an opportunity to acquire more in-depth skills on evidence-based Industry Recognized Credentials (IRC) models and methods. In fact, some funding streams may require this step for certification. The option teaches participants the MI method, an Industry Recognized Credential course. MI is a powerful method of helping people change their behavior and achieve their goals. Participants can participate through an online on-demand or live in-person. Other Industry Recognized Credential courses are planned.
Program Details
ASSOCIATE CERTIFICATION
Designed for individuals who want to start a career in the human services field, this program provides training and resources to help candidates earn a recognized entry level professional credential that will enable them to initiate careers in the human services field as Certified Evidence-Based Associates (CEBA) in Human Services.
Candidates undergo pre- and post- testing, attend a 10-modules, self-paced online human services career training masterclass, gain exposure to proven human services models and career tracks, and close-out with a live in-person debrief and graduation session. The close-out session is facilitated by a human services professional with the aim of ensuring that candidates have a good grasp of the material covered in the masterclass, answer questions and represent the profession. It is funder- and stakeholder-friendly by ensuring it acounts for typically required evidence-based methodologies and education.
Intended Outcomes
Successful completion of the certification will indicate that you have achieved:
An Understanding of the Various Human Services Careers
An Understanding of Evidenced Based Practice as Part of Service Delivery and Intervention Strategies
An Understanding of Motivational Interviewing Skills and its use in Service Delivery
An Understanding of Trauma Informed practice for consumers, service delivery agencies, communities, and management of self
A Review of the Values and Attitudes that are at the Foundation of a Career in Human Services
A Review of the Knowledge, and Skills Necessary to Support of Consumer's seeking services
A Review of the Meaning and Practice of Cultural Humility
A Review of Evidence Based and Trauma Informed Intervention and Interviewing Strategies
A Review of Social Work Ethics and response to Ethical Dilemmas that may present themselves in the workplace
Associate Certification + Mentorship
ASSOCIATE CERTIFICATION + MENTORSHIP
Mentorship is the add-on to certification for a more robust offering designed to provide guidance and coaching some candidates may need as they undergo their career development training and certification credentialing. Mentorship is provided by human services professionals themselves through 1-on-1 and group interactions.
Services delivered are evidence-based and trauma-informed with the aim of helping participants succeed in the community.
Intended Outcomes
Participants will be in a position to undergo mentorship sessions working closely with professionals in the Human Services field to help guide, coach and motivate them to achieve their goals, attend a 10-modules self-paced online human services career certification masterclass, pass masterclass modules quizzes, undergo pre- and post-testing, and undergo the Industry Recognized training in Motivational Interviewing (MI) through a MINT provider as may be required.
Participants gain confidence to pursue their dreams with a professional credential that will help set them apart as they start their careers in the growing human services field.
The return on investment (ROI) can be quite substantial for participants and their sponsoring agency.
Program Cycle
Participants must complete the program within 90 days to get certified. This cycle is established to help instil urgency to achieve certification in a reasonable time frame. 
What participants are saying and doing!
A. Tuttle

"I did not know there were so many opportunities in Human Services.  It's rewarding that I will be able to help others and help myself."

D. Malone

*Desteny Malone - I especially liked the self-care module of the workshop.  I realized I would like to go into Art Therapy.

M. Bischoff

"An eye opening program where I learned so much I did not know. So many opportunities and options in Human Services!"

T. Lopez

"I was very scattered without any real direction in the beginning. After going through the course, it helped me to focus on wanting to work with children."

M. Klein

"I am so pleased to inform you that since receiving the certification my client M. Bischoff has gotten a full time position as a Direct Support Specialist. She now works for an addiction treatment center for women and she LOVES it!!!! Thank you!!!"